Honki Dattsu no! - Fujiwara Akira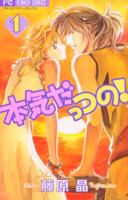 Genre:
Shoujo, Romance, Smut
Summary:
A girl who's just come to Tokyo fresh from the country is saved from some delinquints by a handsome guy. He beds her before the day is out but is gone the next morning. She searches for him but to no avail. Finally she gives up and heads to Art school for the first day of classes only to find he's a student at the same school! Once they meet again she confesses her feelings only to find out that he's not willing to have a relationship with anyone that's any more serious than "sex friends". Will she ever be able to coax him into a serious relationship?
Status:
On Hold due to J-E translator