Papagoto - Kita Naoe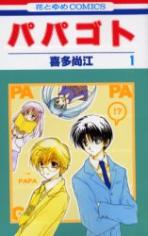 Genre:
Shoujo, Drama, Slice of Life
Summary:
What will you do if your dearest one die? When his mother died, Tsubasa can only leave it all to fate while his families are competing to adopt him in order to get his inheritance. A man who only 3 years older than him suddenly come out of the blue, announcing that he is his new father.
Reason:
Moved to Lovelipop Scans