Akiyoshi Family Series - Hidaka Banri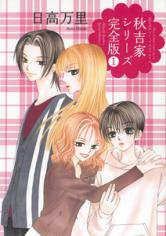 Genre:
Shoujo, Romance
Summary:
The compilation of stories about the different events happened within the Akiyoshi family.
From volume 01: To be a couple for only 365 days. Would you accept this sort of love? ... A year ago, Hajime asked Tonami to do just that. What he didn't know was that Tonami was already in love with him. In a blink of an eye, 365 days have passed...
Is it okay?
Consist of: 365-nichi no Koibito, Owaranai Koi no Tameni, Arinomama no Kimi de Ite, Uta wo Kitasete and Sekai de Ichiban Daikirai.
Status:Volume 01 - 365-nichi no Koibito:
Chapter 01: Translating
Chapter 02: Editing
Chapter 03: Uploaded
Chapter 04: Uploaded
Chapter 05: Uploading